RIC ANNUAL MEETING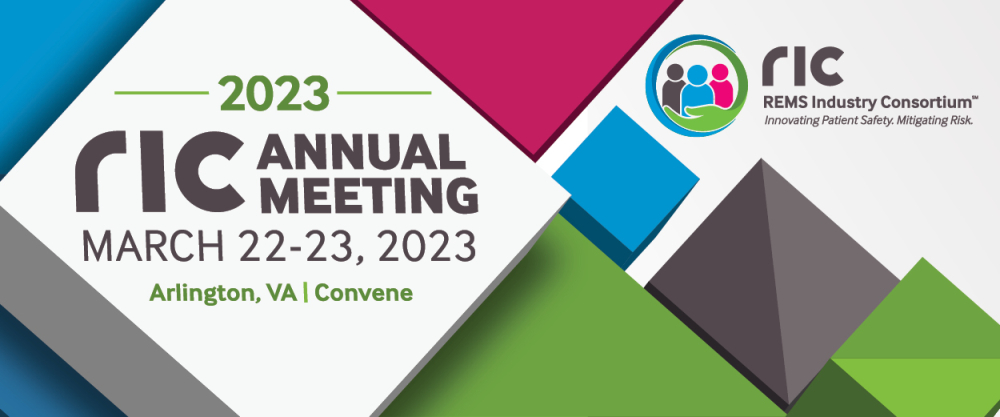 Join us March 22-23, 2023 at Convene in Arlington, VA for the RIC's inaugural annual meeting!
The REMS Industry Consortium fosters collaboration and innovation to advance patient safety, appropriate access, and best practices in REMS-related drug and biologic risk management.
The annual meeting will be an action-packed two-day event designed to connect REMS professionals, fostering knowledge sharing and personal connections. Get in on the ground floor of the meeting that celebrates REMS innovation in the service of patient safety!
Topics include Why RIC, Why Now?, Codex REMS Integration, REMS Legislative update, case studies, technology solutions, and more. New sessions and speakers are added daily. Plus the FDA has been invited as a participant in the meeting.
Stay up to date with the latest sessions and speakers through the official RIC 2023 app!
Download the WHOVA app
Search RIC Conference 2023
Build your profile
Ensure you enable notifications to receive the latest updates!
DON'T FORGET TO BOOK YOUR HOTEL STAY!
We have partnered with the Hilton Homewood Suites Arlington Rosslyn Key Bridge for a discounted rate.
Hotel reservation deadline is February 20, 2023!
INTERESTED IN SPONSORING THE ANNUAL MEETING?
Contact Christina DeRose for more information.